Childhood is magical, and so are the eyes of toddlers and their parents when the gifts received on Birthdays and Holidays make a difference in the long run.
The best gifts for toddlers (girls and boys 1-4 years of age) are a fantastic opportunity to both educate and spark new interests for life. From Montesourri-approved toys and books to sports, animals and building sets, to adventures you can do with toddlers, this Dream List guide is based on feedback from parents and educators. We update it frequently with new products and advice (send us your tips to toddlerguide@dreamlist.com). As is typical for all DreamList guides, we focus on the WHYs and WHY NOTs as much as the WHAT of gift ideas. With toddlers, that means starting with the Parents's wish list, here is why:
Ask the parents of the child's wish list.
Parents of little ones often dread giving occasions, because most lead to floods of overstimulating toys that make the homes of young families smaller and less managable. The wrong "stuff" gets played with far less than the amount of space and time it takes. If they have one DreamList, that means they may also have savings plans such as a 529 plan or family adventures planned ahead for their little one, so make sure to ask for the family dream list.
Clothes and Shoes
Babies tend to get a lot more outfit gifts than toddlers, because they are easiery to dress. Literally. Toddlers have opinions about everything they can touch, eat and wear (sometimes about their parent's clothes and food choices as well). Toddlers also grow fast and at varied heights. Don't buy clothes, unless you can to get measurements and ask for favorite character/topic preferences. Parents report spending many mornings re-dressing toddlers who ask wake up with specific fashion choices in mind (regardless of gender). Getting sizes ahead is also tricky, because your 4T tshirt gift may finally fit in winter, and be outgrown by summer. Putting a jacket on that covers a toddler's with a favorite t-shirt is akin to dressing an octopus (the octopus often wins). Toddler shoes are also tricky, not only because of fit, but also because of walking/running needs and preferences (from arch support, to flashing lights). Parents who set up a wish list on DreamList, can keep important metrics at the top of their list, and the site can suggest updates to prevent stale wish lists. More importantly, since both parents can add to and manage the child's wish list together, you are only half as likely to get old information.
Books and Toys
Toddlers can be very action oriented: excellent runners, avid listeners to things that sound interesting, and painters of all things that can be drawed on (and some that shouldn't). The hard stuff is teaching a 2-3 year old girl or boy how to focus on something non-screen-related and apply their minds without distraction for an extended period of time. Here are some toy combinations that work well for that: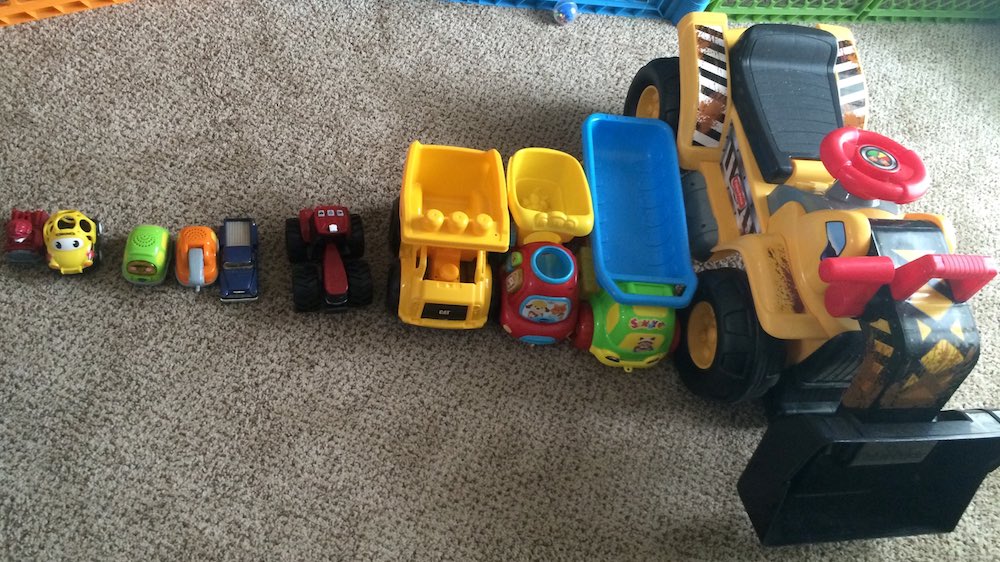 Make a wish list, because this happens when the only thing you tell relatives is that your toddler likes trucks.
Animals - cow, elephant, sheep, lion, bear, dog, bunny, you name it. Toddlers learn animal sounds early, and become close friends with the animals. Getting toy versions of animals (ideally larger than an inch or two, and made of rubber or other non-breakable materials) gives toddlers hours of repeatable fun. It also gives toddlers someone to build things for, whether the building is a home for the animal to live in, or a playground. That brings us to:
Expandable toddler-safe building sets. From Lego Duplos, to magnatiles, to wooden train tracks. Check with parents and the family's DreamList to see what sets are collected (or ideally not even started yet), and add litte bits to those sets. These sets pack small into boxes and can be combined over time to create more elaborate sets. Toy animals in our house have lived in Duplo houses, ridden on wooden train tracks that go through magnetic tile tunnes, and all sparked out of the imagination of a two year old boy.
Books that include impersonations of animal sounds, actions by big machines and trains, and strong memorable characters are a hit with toddlers. The Little Blue Truck series, Anything Elmo, Mickey Mouse, Moana, Frozen, or other toys, is always a hit. A richer list with links is coming very soon. Books that tie the animals or buildings from the previous two categories are a downright slam-dunk (Good Night Gorilla; Giraffes Cant Dance; Pout Pout Fish; )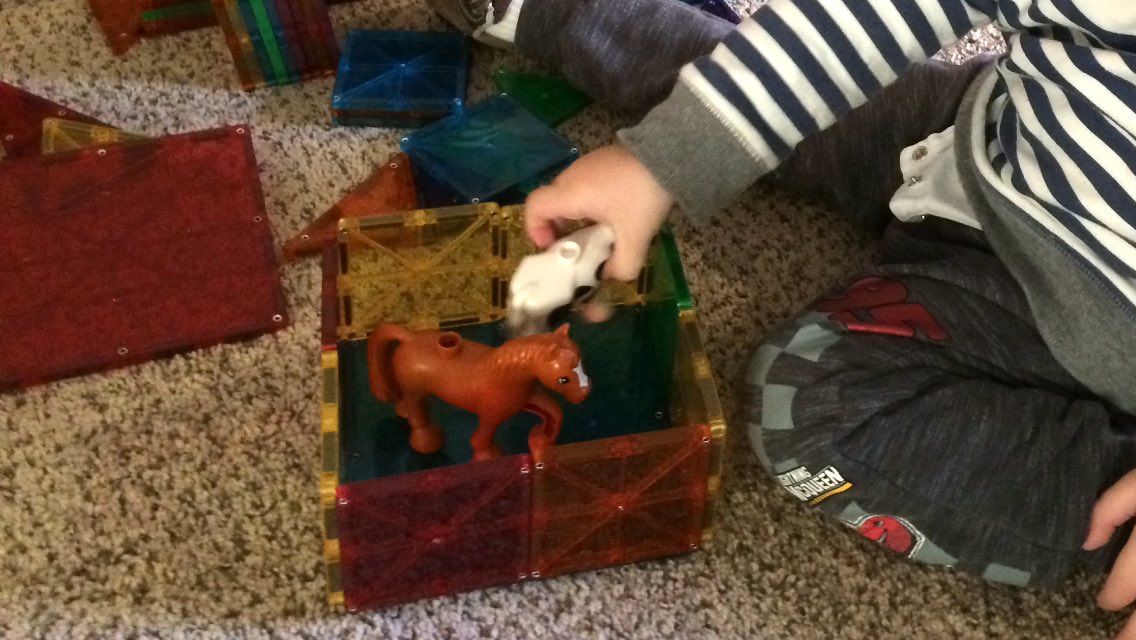 The best gifts for toddlers spark creativity and focus.
Funds and Long-Term Savings for Kids
Many families are blessed with a lot of love from extended family, but still face uncertainties in their future. On DreamList, parents can share what major initiatives they are saving for for the little ones, so friends and family can put their gift to contribute a small piece towards something bigger. Something the kids can appreciate when they are a little older. From 529 plans, to savings for a first computer, or a first trip to Disney. Ask the parents for their Dream List to get the list if things they find most meaningful for their little ones.
Adventures for Young Families
A favorite gift that keeps on giving back. Make a coupon for a trip to the Zoo, a hike, a trip, or a movie night under the stars for the little one, or just gift one virtually on DreamList, and take the first opportunity to fulfill that promise when you get together with the Family.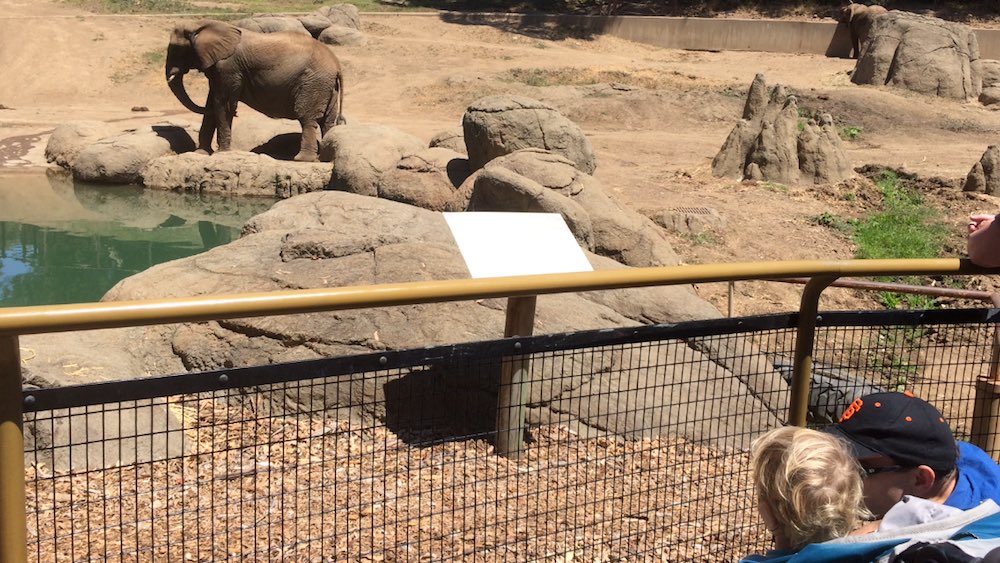 Zoo and Museum memberships make fantastic gifts for kids and parents alike.